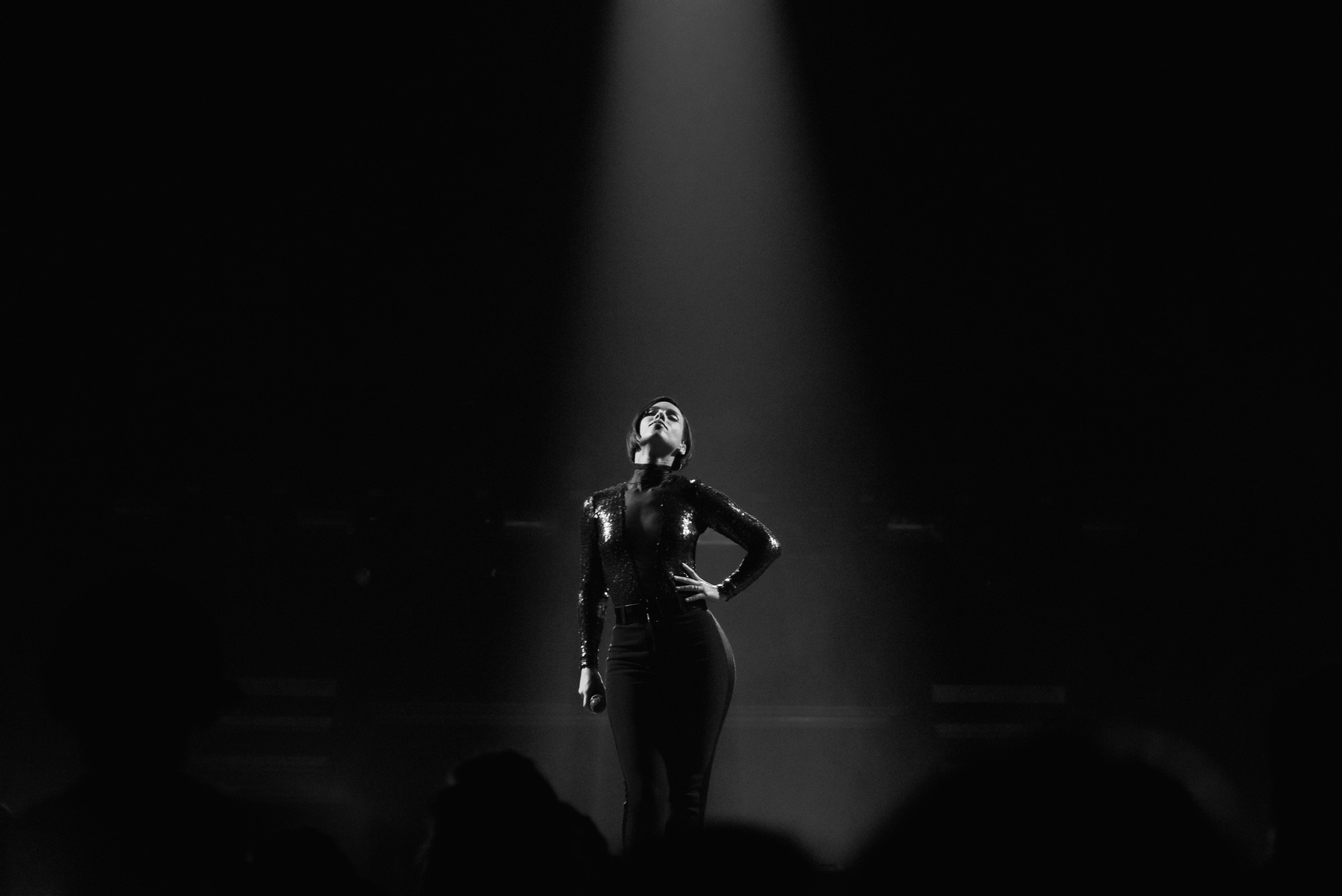 Photographing Alicia Keys was one of the best things to ever happen to me as a photographer, and the best thing to ever happen to me as a fan. It's been nearly 3 years and I still remember the exact date: April 8, 2013.
At the time, I had an interest in music photography, but I had never really shot any event that required a photo pass. I certainly had never photographed an arena show. I caught wind of a contest over on Tumblr. Alicia Keys was going to choose one Tumblr user for each stop of her Set the World on Fire Tour to document the show in that particular location. To be eligible, you had to show examples of your work and what location you wanted to cover. I'm a Brooklynite, so naturally I wanted to be able to cover her show at Barclays Center. I had next to no music photography experience, and my site at the time was very bare. I decided I would try my luck and submit my portfolio of street scenes and cityscapes.
The day of the show at Barclays, I received an email from the PR firm handling the contest. They wrote to tell me that a person had already been selected to cover the Brooklyn stop on the tour. I thought it was a bit odd to email me the day of for something like that, but there was more. The email went on to say that they would like me to attend the tour stop in Newark, New Jersey instead. I was thrilled. Not only had I been chosen for the show, but I was going to get to attend the concert, bring a friend, and meet Alicia Keys. All of this was huge: getting to photograph a big star at an arena show was a big deal. Getting to share that moment with a friend was even better. Being able to meet someone whose music I've been a fan of for a decade was amazing, and it took a lot to contain myself at work.
There was one little snag, you see. The camera I was using at the time was the Nikon D7000. A little while before finding out I was going to shoot, I had sent in the camera for service, because it took a fall. So now, I have one of the most exciting moments of my life about to happen, and I've got no camera to use! I got the email about the show on April 5th, and I needed to have a camera in-hand on the 8th. I figured that if I was going to have to rent, I should rent a better camera than the one I owned at the time. After giving it some thought, I decided to rent the Nikon D600. My logic was that the button layout was so similar to the D7000, that I'd have no trouble figuring it out. I'd be able to pick up the camera and all would be well…or so I thought.
I get to the store to pick up my rental, and to my surprise, they tell me the camera is not available. The camera that I took the time to reserve wasn't reserved at all. After explaining to them that it was an urgent situation and that I couldn't wait another day to take the camera, they let me rent the D800 at the same price. I thought that was really nice of them, but now I had the dilemma of having to use camera I was unfamiliar with. Certainly, not as big of a problem as showing up without a camera at all—much worse could have happened.
The day arrives, and it's a bit of a hassle. I had never picked up a photo pass before, so I didn't know how it would work. After going from one entrance to another, trying to find someone who knew what was going on, it became apparent that I wasn't getting a pass after all. Instead, I was given my ticket and VIP pass, and told that I'd have to be escorted to the photo area before Keys' set. I waited on a line for the meet & greet, and then I went to my seat. "Find me after the opener, " is what one of the guards told me.
Miguel was the opening act, and it was an incredibly energetic performance. I wasn't told to photograph his set, and no one came to escort me to the photo area, so I just took a few photos from my seat. It was at this point that I realized what I was working with. The camera I was using was much more powerful than the D7000 I normally carry, and the production value of this arena show was much higher than the small venues I had photographed previously. That means that I was able to get some really well exposed images with much less effort. In fact, I was so unfamiliar with the scenario that I didn't realize I was overexposing some of my shots.
I went back to being an audience member after a few photos, and the rest of the set was amazing. The lights go up for intermission, and now I'm starting to panic, because I need to find this guard in an arena, and I don't see him anywhere. I was also foolish enough not to get his name, so I couldn't even ask another guard where he was. There didn't seem to be anyone else around who even knew about the contest, or that I was supposed to be taking photos, so I worriedly walked around for a bit before finding the guard, who was also looking for me. This is when I realized what kind of shooting experience I was in for.
I was escorted to the soundboard, which is where the photo above was taken. Here I was with my camera and a 105mm lens, which was the longest lens I owned. I was placed in the pen with the soundboard, and on the other side, I could see the actual press. They were obviously way better prepared than I was, with a few of them having huge lenses that probably got great closeups. I was in over my head back here. Alicia took the stage and a ton of people stood up, blocking my view for the most part. I had to wait for the hype to die down and then I chose my shots as best as I could. It turned out okay, and I got some photos that I'm really proud of, but my favorite of the night actually came after the first three songs, when I went back to my seat. I wasn't forced to check my camera after the first three songs, so I just took a few photos over the course of the show. The first photo in this post was taken from my seat—9th row, center.
After the show, I was so proud of my work, and so thankful for the opportunity that I had two 16x20 prints made, and I asked the PR team if I could mail them over. I haven't the faintest idea if Alicia ever got them, but I mailed them along with a thank you note. It was a wonderful experience and I'll never forget it.